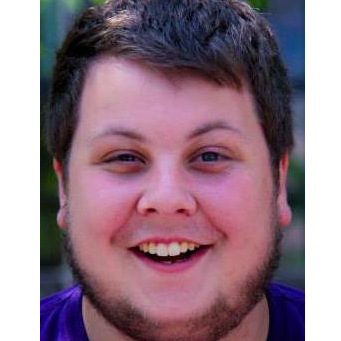 Dustin Kadlec Biggest Heart Award
Leonard and Linda Kadlec created the Dustin L. Kadlec Biggest Heart Award in honor of their 22-year-old son who was tragically killed in a car accident on March 7, 2015. Dustin grew up in Woodbury, MN, and attended Transfiguration Catholic School and Stillwater Area High School. During high school, he started his first job at Buffalo Wild Wings as a greeter/cashier and eventually server. Following graduation, Dustin decided to attend Winona State University, and he received his bachelor's degree posthumously in December 2015.
Dustin was always happy and was the most positive person anyone had ever met. The glass was never half empty in Dustin's view. Every day was a great day, and a lot of them were the best days ever, according to Dustin. He was a big teddy bear and loved giving people huge bear hugs. He'd give them to his friends and loved ones, of course, but also to perfect strangers. If he felt someone could use a pick me up, he would give them a huge smile or greeting and then a big hug. When he was in junior high and high school, this goofiness and friendliness wasn't "cool." Dustin had a couple of close friends but mainly socialized with his new "family" at Buffalo Wild Wings. They loved and appreciated him.
When Dustin got to Winona State, he was assigned a random roommate in the dorms. That roommate went on to be his best friend and their circle of friends is where Dustin shined. Dustin also became known around campus for his friendly, outgoing manner and, of course, his bear hugs. Dustin would be so happy that a scholarship is set up in his name at the place he loved. He wasn't a shining academic star, but he found his place in the world at Winona.
At a candlelight vigil held in the gazebo after his death, paper and pens were available for those who wanted to write a note to Dustin or his family. So many of those notes were from people who met Dustin only once but because of his big heart and hugs, he made a lasting imprint on them. His friends and family all said they want to live a more positive life, accepting of everyone, because that's what Dustin did.
*Scholarship contacts are Leonard and Linda."