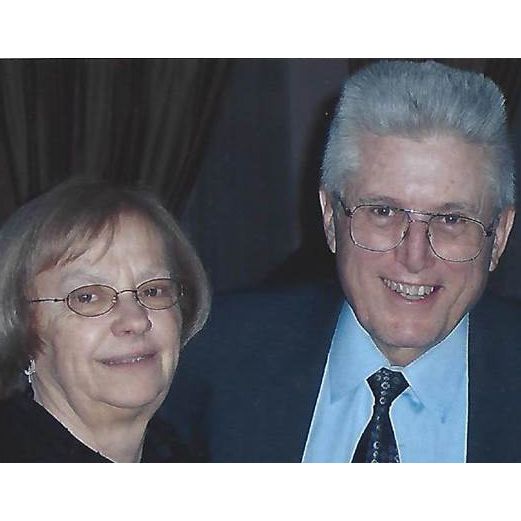 The Camille Gilbertson Moll Scholarship in Math & Science
We both were raised in humble environments as most people of our era with parents looking to have their children be more successful than themselves. Education was deemed as the mechanism to make good happen.
We feel so blessed with our success for great careers, family, and a rewarding life. We know that luck occurs with hard work, taking advantage of opportunities, and maximizing one's given talents. Our college experiences helped so much for preparing us for the greater part of our life. We both believe that college is meant to provide the means to gain employment and the studying of math and sciences prepares one in so many ways.
Integration of sports and/or other activities with a strong educational effort is important as we feel it helps develop individuals. We both have enjoyed sports, had our daughters involved in many including high school and college teams, and we took part expanding the Lehigh Wrestling Club from 250 up to 1000 members which is fan based, but cares for the well-being of the team members on the mat and in the classroom. Camille is still serving on the Executive committee handling the databases and being social chair person. Dick is pursuing his love for investing which was a hobby his entire career and in assisting with the Lehigh 1961 Class activities serving on the 50th fund raising committee which turned into a five year project from graduation year 45 to 50!
Camille Moll Biography
Camille Moll was born on May 15, 1937, in Whitehall, Wisconsin. Her parents were Gladys and Erne Gilbertson. She graduated from Whitehall Memorial High School in 1955 and attended Eau Claire State College in Wisconsin from 1955-1957. Camille graduated from Winona State College in 1959 with a major in Business Education. She taught business classes at Dodge Center High School in Minnesota for two years. She then worked for J. M. Dain, a stock brokerage firm, in Minneapolis, Minnesota. Camille taught two 6 month sessions of a Manpower Training Class for individuals ages 16-60. She married Richard Moll on August 6, 1966. Camille and Richard have four daughters: Patricia, Susan, JoAnn, and Deborah; and eight grandchildren: Abigail, Isaak, Darcy, Megan, Patrick, Grace, Rosemary, and Gabrielle. Camille took time off to raise her daughters and kept busy with all their activities and AAUW. She then started working for The Pennsbury Society, a PA Historical Society. There she was office manager and bookkeeper for 27 years. She retired at the age of 70. While working, Camille managed to attend all of her daughters' athletic events. She participated on a committee for Northampton Girls' Softball Association for 27 years and was Social Chairman of the Lehigh University Wrestling Club for 15 years.
Richard Moll Biography
Richard Moll was born on May 21, 1939. He graduated from North Penn High School in Lansdale, Pennsylvania, in 1957 and from Lehigh University with a BS in Engineering Physics in 1961. His first employment was with Proctor and Gamble in Staten Island, New York in a Management Training Program. Richard then attended a year of graduate school at Ohio State in Mathematics. He was then employed by Naval Air Development Center in Pennsylvania and worked in Minneapolis, Minnesota, for a year. Richard was the liaison individual for an anti-submarine computer being developed by Unisys. He then went on to work as a processes engineer for an industrial High G-Force Centrifuge Company. Richard retired after 33 years as the VP for Engineering & Application Development and then formed an S-Corporation and consulted for all types of centrifuge problems. He retired at age 70 and is involved in volunteer work and enjoys benefits of living close to Lehigh. Richard was a recognized expert in the centrifuge field with a specialty in municipal and industrial waste applications and had the opportunity to travel worldwide applying the technology.
Scholarship contacts are Camille and Richard.