 Ethel & Gordon Hotle Scholarship
C. Gordon Holte, 88, died Wednesday, June 23, 2010, at St. Anne of Winona Extended Healthcare in Winona. Gordon was born July 4, 1921, in Thief River Falls, Minn., the son of Mr. and Mrs. J.C. (Gertrude Sandum) Holte. He enrolled in the school of journalism of the...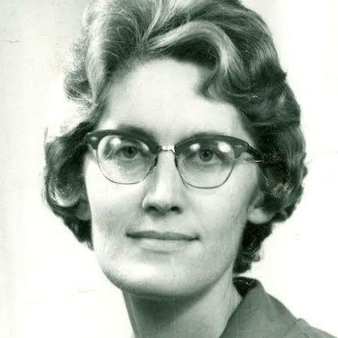 Evelyn Stephan Scholarship
Evelyn Stephan, originally from Plainview, MN, graduated from Winona State Teachers College in 1948 with majors in math and social science and a minor in art. After graduation, she taught math for a year in Boise, Idaho, before taking a position in the Cleveland... Fastenal Professional Selling Scholarship
The Fastenal story began in 1967 when Bob Kierlin pooled together $30,000 with four friends and opened the first Fastenal store, a 1,000 sq. ft. shop in his hometown of Winona, MN. Growth Through Customer Service is the motto that has guided the company's growth and... Federated Insurance Scholarship
Federated Insurance would like to increase cooperation between Federated Insurance and Winona State University to encourage students to consider Federated at the time they begin their career search. To encourage and support students at Winona State University who... First-Gen Warrior Scholarship
Through his work with the First-Gen Warriors, Charles Opatz, an Academic Advisor and Career Counselor at Winona State University, and his colleagues, have found that over 45% of Winona State University students fit the federal definition of first generation students... Floretta M. Murray
Floretta M. Murray began teaching at Winona State as an art supervisor of Phelps Campus School in the fall of 1932 following her graduation. She began teaching in the college art department at WSU in 1941 and eventually became head of the art department. During her... Frank Rocco Memorial Scholarship
Frank Rocco, 69, of Winona went home to be with his Lord Wednesday, March 5, 2008. Frank was born Feb. 6, 1939, in Pittsburgh to Antonio and Anna (Talarico) Rocco. On Dec. 14, 1963, he married Joyce White in Lincoln, Neb. He earned his Bachelor of Science degree from... Frederick A. & Marie Jederman Scholarship
Frederick A. Jederman was born in Nebraska in 1891, the youngest of a large German immigrant family. He dropped out of high school to work in a local flour and grain mill where he saved enough money to return to high school and graduate in 1912. Shortly thereafter,... Frederick & Dina Derocher Communication Studies Mentorship Scholarship in Honor of Professor Rita Rahoi-Gilchrest
"I feel blessed to have received academic and athletic scholarships while at Winona State. During my final two years at WSU, I completed an internship with the Department of University Advancement with a focus of raising scholarship dollars for students. This gave me... George & Mary Joyce Scholarship
George, born in Rochester, MN., was the fifth child in a family of seven. His father, a dentist, died suddenly when George was nine years old. His mother then returned to her nursing career, working nights. George worked many menial jobs as a child to contribute... Geoscience Alumni Leadership Endowment (GALE)
Our experiences at Winona State University readied usfor the challenges we encountered in graduate school and industry. The Geoscience department, and research conducted within, prepared us to think independently, instilled confidence in our scientific development... Gerry Cichanowski Computer Science Scholarship
Dr. Cichanowski, a Winona native and a 1974 graduate of WSU, was the first person to receive a minor in computer science at WSU. He received his M.S. from the University of Minnesota and his Ph. D. in Computer Science from Michigan State University. Dr. C joined... Gertrude Simon Welsh Elementary Education Scholarship
Gertrude Simon Welsh earned a teaching certificate from Winona State Normal School in 1901. She taught school in Morton, MN for some time. She also lived in St. Paul, MN before returning to live in Winona where she died in 1936. To honor the memory of his...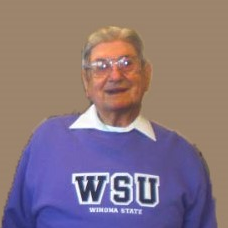 Gil Kraft Scholarship
Gil Kraft graduated from Winona State Teachers College in 1939 with a major in Industrial Arts and minors in Social Studies and Physical Education. While he was at Winona State, he was a three-year letter winner in football as a running back. Born in Elkton, MN,...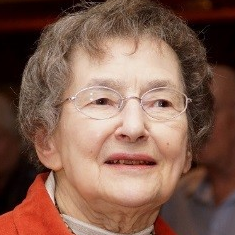 Gina O'Brien Scholarship
Gina O'Brien (2/21/1935-10/10/2015) Gina was born during the Great Depression to a hard working farming family in Owatonna. When Gina was nine, her father was forced to quit farming due to the onset of muscular sclerosis, which eventually left him confined to a... Glenn & Anita (Sundby) Anderson Scholarship
Anita Anderson graduated from WSTC in 1940 with a teaching degree in Math and History. Anita and Glenn are originally from Minnesota, Anita taught a total of 35 years, she first taught 8 years in Minnesota schools and dedicated 27 years teaching in Canby, Minnesota,... Glenn E. Fishbaugher Scholarship
Glenn E . Fishbaugher, for 41 years, was a much loved faculty member and administrator at Winona State University. Mr. Fishbaugher was born February 10, 1899, near Harmony, Minnesota . He was a graduate of Cornell College, Mt. Vernon, Iowa . He taught at Chatfield,... Gordon Espy Scholarship
The Merchants National Bank of Winona created this endowed scholarship for the College of Business at Winona State University in memory of Gordon R. Espy. Espy served as the ninth President of the Merchants National Bank from March of 1967 until his retirement in...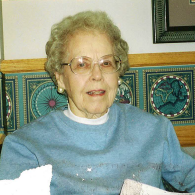 Harriet L. Green Elementary Education Scholarship
Harriet L. Green received her two-year degree from Winona State Teachers College in 1932 and in 1945 earned her Bachelor of Science degree in education from Winona State Teachers College. She taught in several Minnesota school districts including Lewisville, Grand... Hazel K. Baab Scholarship
"Hazel was the mother of Tom Baab who has initiated a Winona State University scholarship in tribute to her values and hard work which made it possible for Tom and his two sisters, Dona and Kate, to be the first in their lineage to graduate from high school and... Helen Jeanne Helble Memorial Scholarship
Helen Jeanne Helble has been described as one of the most beloved educators of the Central Community School District in DeWitt, Iowa. Helen Jeanne was an elementary teacher and taught fourth grade in the Central Community School System for twenty-five years before... Henrietta M. Gerth Scholarship
Henrietta M. 'Henri' Gerth, 73, of Winona passed away Sunday, Dec. 6, 2009, in Winona at the home of her sister after a short battle with cancer. Henri had been a lifelong resident of Winona. She was born Aug. 17, 1936, the daughter of Henry J. and Mary M....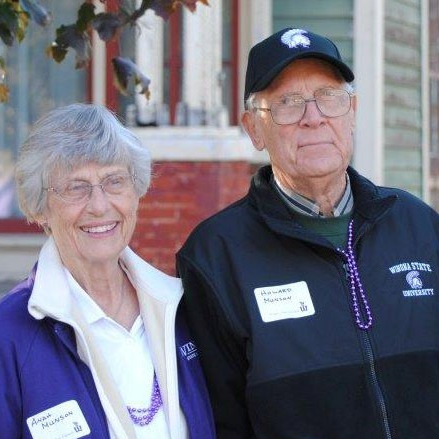 Howard Munson Family Scholarship for Students in Education
It was at the University of Minnesota – Duluth, in 1948, that Howard completed his Bachelors degree, with academic work in biology, geography, and the social sciences. He continued his education at the graduate level at Macalester College, Washington State...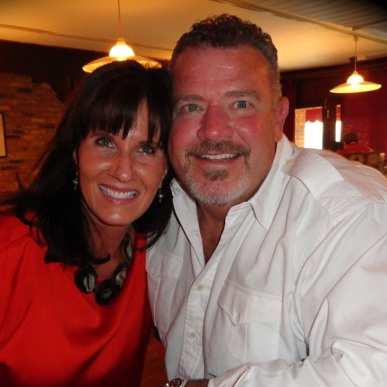 Illinois Warrior Football Scholarship
The purpose is to provide scholarship funds for Winona State University to encourage and support student athletes who participate in the WSU Football Program, helping defray tuition costs and to enhance the football program that is a part of the quality athletic... Industry for the Advancement of WSU Composite Material Engineering Scholarship (formerly SPE)
In the mid-1980s, the need for talented, educated engineers in the Winona area was becoming increasingly more important, largely due to the rapid growth of RTP Company, a local business that develops thermoplastic compounds, and several other plastics companies....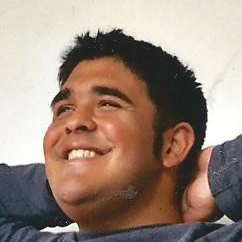 Isaac Bera Memorial Scholarship
Isaac was born April 16, 1981, in the Dominican Republic to Melvin Bera and Beth Heim de Bera. At the age of five, Isaac moved with his family to St. Charles where he attended kindergarten. He then moved to Rochester where he graduated from John Marshall High School... Jacqueline & Ronald Hatlevig Memorial Scholarship
Jacqueline Vix Hatlevig, Ph.D. was a 20-year member of the Winona State University faculty serving in the Nursing and Child Advocacy Departments. Dr. Hatlevig was implemental in developing the Child Advocacy Studies curriculum at WSU, which allowed her to bring her... James & Nancy Reynolds Scholarship
Marian and Donald Turner knew the value of education and encouraged their family to get the best and most education possible. Marian's education began with a year of Normal Training in Chatfield before she began her 28 year teaching career in 1935 at the age of 18 in... James Opsahl Scholarship
This scholarship is established in memory of James F. Opsahl by the Winona State University Biology Department from funds bequeathed to the department by Dr. Opsahl. Dr. Opsahl received his E.A. degree in biology from the University of California at Berkeley in 1949.... James & Phyllis Sands Education Scholarship
After graduating from Winona State in December, 1959 with a B.S. in Education, I got a job teaching at Kasson-Mantorville. I was there 32 years as a teacher and athletic director. I met my wife, Phyllis, who was a K-M kindergarten teacher in Kasson. We were on...